ASPC Heritage of Quality Excellence
Since our inception in 1950, we have pursued Quality Excellence with a passion, utilizing a continuous improvement mindset to drive our product quality to ever-increasing levels. We are committed to providing you with superior quality metal products and assemblies wherever you are across the globe.
To do so, we rely on a 0 PPM Quality Strategy to drive our Quality Performance.
Superior Design for Manufacturing
Great Open & Empowered Corporate Culture
Wonderfully Talented and People-Friendly Team
Certified IATF-16949 & ISO-14001 Quality Systems
Vertically Integrated In-House Manufacturing Processes
Sensors and Closed-Loop Control Technologies·
Over the years, ASPC has been honored with numerous performance awards including:
Borg Warner 0 PPM Award
Dana Top 6 Global Supplier Award
JCI Continuous Improvement Award
JCI Environmental & Safety Leadership
JCI Global Excellence in Execution Awards Top 5
JCI Gold Awards
JCI Platinum Awards
Prince Continuous Improvement Award
Whirlpool Top 10 Global Co-Maker Award
ASPC has earned the following industry-recognized certificates: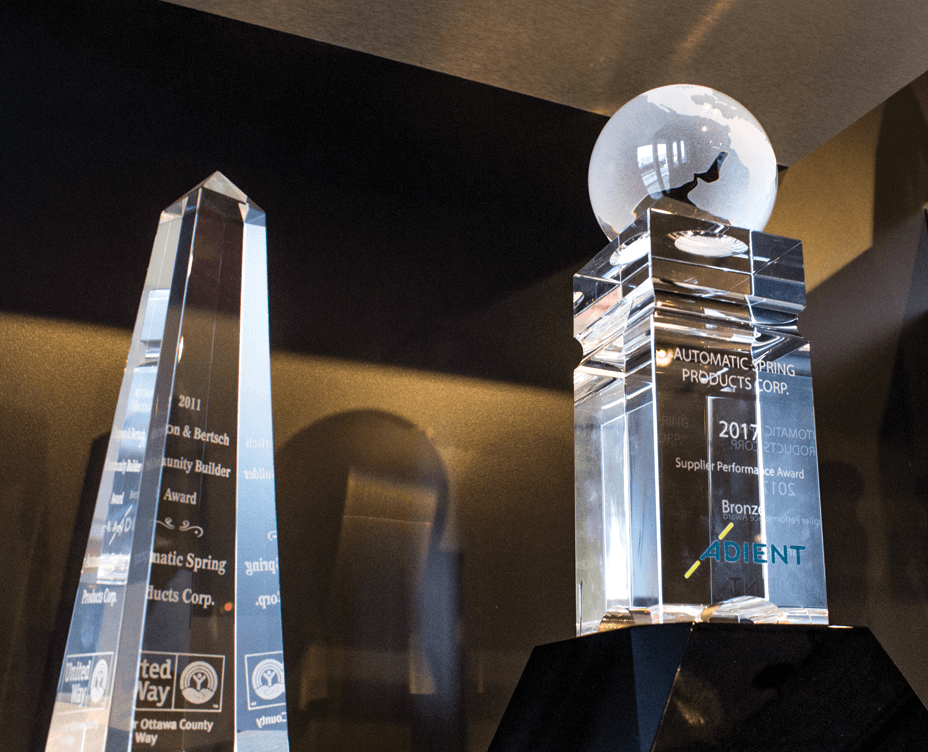 Get a Quote
Are you looking to quote your next assembly project?
Send us your specifications!
ASPC Partners with Elementary Schools to Solve Problems
// Featured Article
Several Grand Haven classrooms partnered with local businesses, including Automatic Spring Products, in the fall of 2018. This program is...

// Featured Article
ASPC Partners with Elementary Schools to Solve Problems