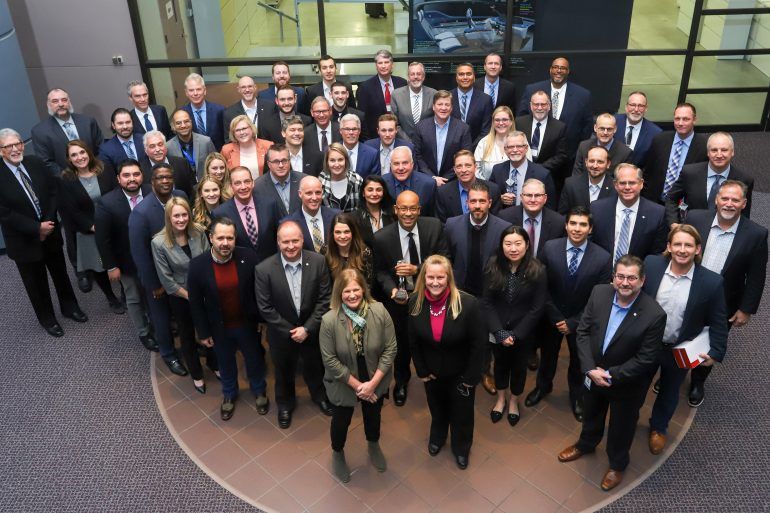 Yanfeng Automotive Interiors recognizes ASPC as a top automotive supplier at Supplier Performance Awards event
February 6, 2020
Yanfeng Automotive Interiors, the world's largest supplier of automotive interiors, celebrated 19 of its suppliers during the North America Supplier Performance Awards Ceremony.
"Each year, this event is an opportunity for us to recognize our suppliers for their commitment to excellence," said Jim Bos, vice president, global procurement, for Yanfeng Automotive Interiors. "Their dedication enables our team to provide our customers with the high-quality products they've come to know from YFAI."
The Supplier Performance Awards honor the company's top suppliers for their outstanding track record in the areas of quality, cost, logistics, development, technology, and service.
Automatic Spring Products Corp. of Grand Haven MI, was honored as a recipient of the Distinguished Supplier Award. Steve Moreland, President and CEO along with Pat DeShaw, Exec. V.P., recieved the award for ASPC.
About Yanfeng Automotive Interiors:
Yanfeng Automotive Interiors (YFAI) is the global leader in automotive interiors. YFAI is redefining how people relax, work and play in their vehicle interiors today and decades from now. Headquartered in Shanghai, the company has approximately 110 manufacturing plants and technical centers in 20 countries and more than 33,000 employees globally. They design, develop and manufacture interior components for all automakers. Established in 2015, Yanfeng Automotive Interiors is a joint venture between Yanfeng, one of the largest automotive suppliers in China and Adient, the global leader in automotive seating.

Notice: Undefined variable: maincat in /var/www/html/wp-content/themes/asp-child/single.php on line 12

Notice: Trying to access array offset on value of type null in /var/www/html/wp-content/themes/asp-child/single.php on line 12

Notice: Trying to get property 'slug' of non-object in /var/www/html/wp-content/themes/asp-child/single.php on line 12

Related Posts
Categories