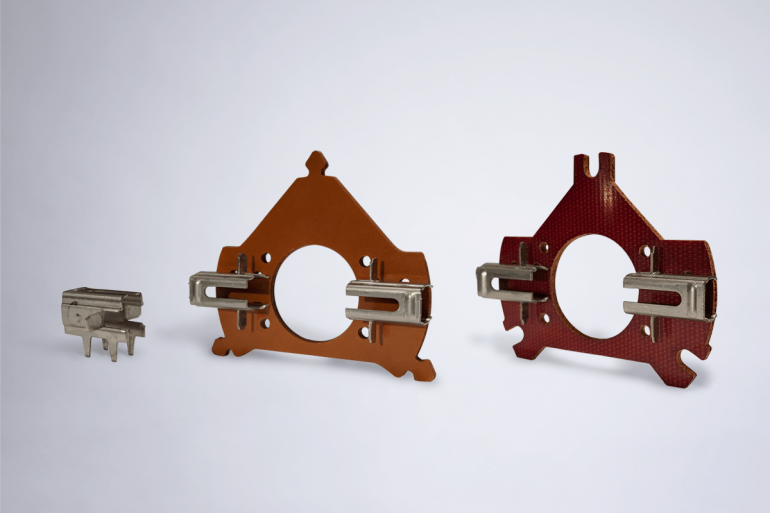 Cost-Effective, Labor-Saving Stainless Brush Box Assembly Solution for Global Firm
Automatic Spring Products Corp. was manufacturing a tight tolerance 3-sided brush box in a progressive die for a global automotive electric motor manufacturer.
When the potential for product improvements was identified, the ASPC team traveled to the manufacturer's plant in Tennessee and observed their assembly process.
Solution
During this time, ASPC noticed two things:
The parts were getting crushed during shipment, causing the gap on some parts to become too narrow.
During assembly, some brush boxes were crushed because there was no center support for the box during staking.
Consequently, ASPC recommended a production solution that would solve both quality issues and provide cost savings to this automotive company.
Their solution was to bring the staking assembly of the 3-sided brush box into ASPC and automate it.
Results
In the end, ASPC's production solution provided three benefits to the manufacturer.
First, by assembling at ASPC in the same machine that formed the brush box, ASPC eliminated the problem of brush boxes being crushed during shipment causing narrow gaps.
Second, by providing interior support during its assembly, ASPC eliminated the problem of short brush boxes being caused by the assembly process.
Third, by combining the brush box staking assembly process in the same machine as the forming process, ASPC was able to manufacture and assemble the brush box assembly with a small fraction of the labor required during semi-automated assembly in the manufacturer's facility.
This thus saved them enough money to pay for the production and automated assembly tooling in less than 12 months.

Notice: Undefined variable: maincat in /var/www/html/wp-content/themes/asp-child/single.php on line 12

Notice: Trying to access array offset on value of type null in /var/www/html/wp-content/themes/asp-child/single.php on line 12

Notice: Trying to get property 'slug' of non-object in /var/www/html/wp-content/themes/asp-child/single.php on line 12

Related Posts
Categories