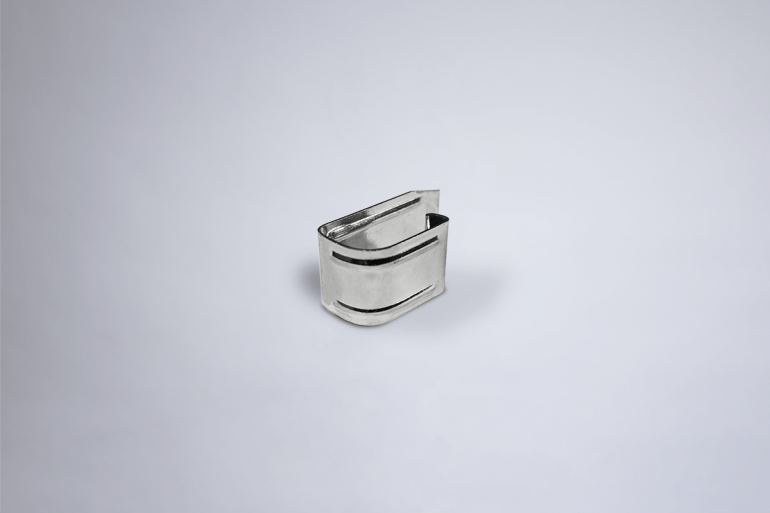 New Clip Design for National Pants Hanger Company
A national hanger manufacturer came to Automatic Spring Products Corp. to request help in developing a spring clip application for their concept of a new pants hanger design.
Solution
ASPC's owner and engineering team worked with the customer to design, develop, prototype, and fine-tune the new clip design for the new patented pant hanger design.
The clip design was ultimately so robust that this part allowed this customer to dramatically grow their business with their new patented pant hanger design and ASPC's clip design.
Results
During the first couple of years of production, ASPC provided 5,000,000 clips annually.  As the design became more widely adopted, not only in North America but throughout the world, their production volume climbed to over 300,000,000 clips annually, leading to tremendous success for ASPC and their customer.
It was the huge volume and delicate tight tolerance dimensions required on the clip that led to ASPC jointly developing a custom austemper furnace with a well-known furnace manufacturer.  The furnace design was engineered specifically for maintaining tight dimensional tolerance controlled austempering of small precision metal components.
Today, ASPC has four of these custom designed austemper furnaces operating in its Taylor Avenue Plant.

Notice: Undefined variable: maincat in /var/www/html/wp-content/themes/asp-child/single.php on line 12

Notice: Trying to access array offset on value of type null in /var/www/html/wp-content/themes/asp-child/single.php on line 12

Notice: Trying to get property 'slug' of non-object in /var/www/html/wp-content/themes/asp-child/single.php on line 12

Related Posts
Categories