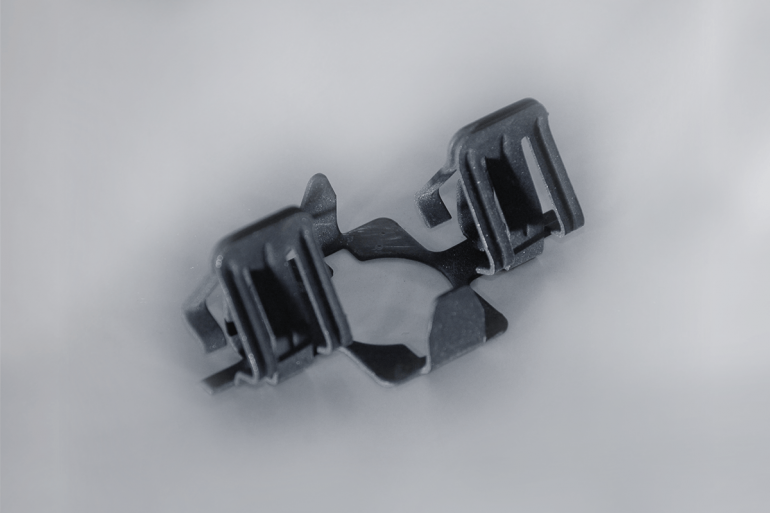 Customized Butterfly Retaining Clip Solution Designed for Global Automotive Interior Manufacturer
A global automotive interior customer came to Automatic Spring Products Corp. with a spring retainer clip problem that their current North American supplier was struggling with.
Their supplier was experiencing tremendous rework and sorting costs in trying to supply this difficult spring retainer clip, causing significant delivery issues for this manufacturer.
An outside firm suggested to this global automotive interior customer that they should move this challenging part to ASPC because they have in-house austemper heat treating and can provide significant control over these tight tolerances.  The customer agreed.
Solution
ASPC tooled up a complex progressive die designed specifically with sensors located within the die to monitor the challenging tolerance areas of the retaining clip.
Additionally, ASPC developed a unique hand-lay process for austemper heat treating the clips to further minimize distortion and dimensional variation.
Finally, ASPC designed a custom packaging machine with vision systems to evaluate 100% many of the critical dimensions while at the same time automatically packaging the delicate clips in cell pack containers.
Result
In the end, ASPC was able to successfully provide these parts to their customer for many years completely defect-free and shipped on time, completely eliminating their quality and delivery problems.

Notice: Undefined variable: maincat in /var/www/html/wp-content/themes/asp-child/single.php on line 12

Notice: Trying to access array offset on value of type null in /var/www/html/wp-content/themes/asp-child/single.php on line 12

Notice: Trying to get property 'slug' of non-object in /var/www/html/wp-content/themes/asp-child/single.php on line 12

Related Posts
Categories